Covid Cases at School
Students with/recovered from covid: 96
Staff with/recovered from Covid: 13
Staff in self-isolation: 6
Many Thanks: 
Special thanks to the Buddha Light International Association and their sponsorship of Rapid Antigen Tests for Sutton Park School.
Below: Mr Woods,  centre, collecting the RAT tests.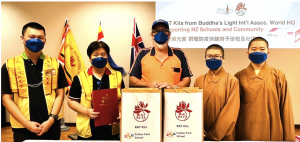 Celebration: 
Well done to each and every one of you. We got to this Friday and our number of new cases this week has declined
dramatically. It has been a challenging month for all of us. Thanks for your considered approach and support of our
students. We will remain open for the rest of the term.
Monitor the Symptoms:        
Continue to monitor for any systems and follow the current guidelines and self-isolate for seven days. 
Attendance:
It has been great to see more and more of our students at school. Let us all aim to have all our students at school next 
week. We continue to follow our Red Zone protocols just to ensure our students are safe. We will make changes when 
necessary.
Vaccination: 
The Board of Trustees retains its position on both staff and those twelve-years-old and over, to be fully vaccinated to be on
the school grounds.
Chromebooks:
Do be mindful of making sure these are charged, and well-looked after.  Our on-line curriculum has enough activities and avenues for our children to continue learning at home, when necessary. Be advised these are monitored by the teacher to make sure the devices are used accordingly. 
Resources for Toloa and Queen Salote Colleges
Our two containers are getting packed and ready to be uplifted on their way to Tonga. This would not have been possible without the support of schools in our area. It is great to see our students being part of this project to help those less fortunate than themselves. I am sure they know, some of those who will benefit out of their labour of care, are their relations. I would like to acknowledge the support from the Board of Trustees.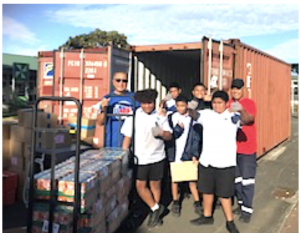 Right to left: Mr Esera, Etisoni, Otutoa, Sitiveni, Konileti, Penihea and Mr Fangai'uiha.
Safe Child Care:
Many of you are entitled to compensation if you use SKiDS for
looking after the children before and after school. As the cold 
weather approaches, it is best to have this sorted for parents who need this service. 
Contact: Onsite: 022 300 1685 or 027 627 5001
Office: 0800 543 922.                                                     Ajneeta: ajneeta@skids.co.nz
Prayers for you in self-isolation. Manuia le fa'aiuga o le vaiaso.